He found a wife. I found a friend.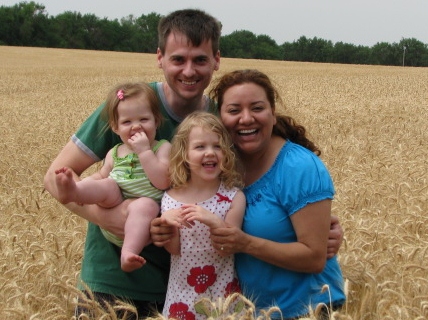 When my brother introduced me to his girlfriend Luisa, it seemed very strange. She seemed so…familiar. Had I met her before? No. She was from California, and they'd met on vacation in Mexico. So why, then, did it feel like I've always known her? Why did conversation flow so easily? Why did I feel like I could trust her instantly? I don't know why, all I know is that it's wonderful. Soon, they'll marry. My two girls will toss flowers down the aisle, and I will witness my brother marry one of my dear friends.
Their courtship was brief, but no one questioned how quickly they were engaged. Their relationship is completely natural, loving and comfortable. I've never seen my brother more happy. He's relaxed. Smiles come easily. He's found the love of his life. And I've found a new sister. Already blessed with two wonderful sisters, I'm fortunate to gain another. She's warm, and affectionate, funny, goofy and completely non-judgy. And better yet, she ADORES my girls. My oldest calls her "Isa," and gets all giddy when she comes to visit.
I just can't say enough good things about her. And it still seems strange to me that she's not in family photos from years ago. I mean, hasn't she always been a part of our crazy clan? She fit in so seamlessly, that surely, her spirit has always been a part of us. I'm so grateful that my brother took that vacation. I'm so grateful that he left his comfort zone to connect with a stranger, who has never been like a stranger at all. I'm so grateful that she was interested in him, too. Welcome to the family, Luisa. We're so glad you could finally join us. 🙂