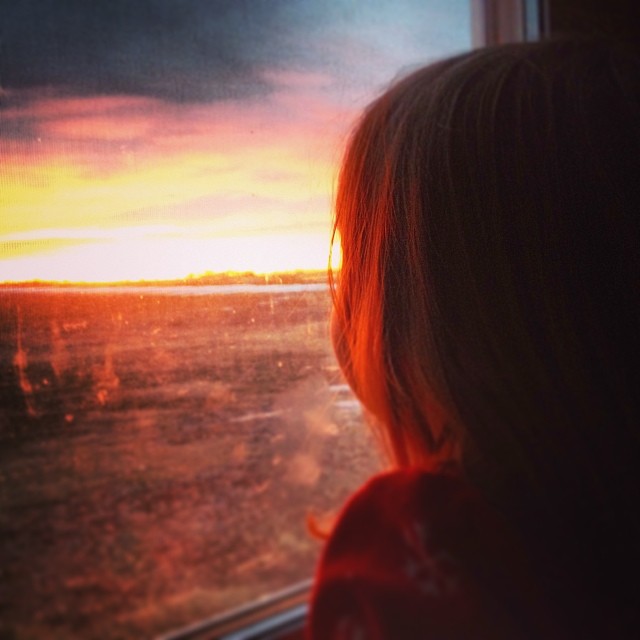 The night air was surprisingly refreshing when I stepped barefoot onto my cold concrete porch. The light from the living room streamed through the closed storm door behind me, but I was drawn to a light beyond the overhang. Above. The moon. Brilliant and white, it pierced through the inky black sky. It was cool and calming. Clouds, narrow yet with clear definition, were drawn here and there, almost like quilt batting that's been pulled thin. I let my toes hang off the edge of the porch, my hand on the 8-inch cedar post for balance, and I leaned out, letting my lungs, ears and eyes be filled.
Geese flew unseen, but not unheard. Their familiar calls echoed back and forth as they navigated their formation, much to the excitement of a far-off neighbor's dog, whose bark carried more than a mile through the stillness. And for a moment, I wanted to set my bare feet on the driveway gravel. Step by step by step I felt urged to simply walk…into the darkness. To be alone. With myself. Yet not my old self. This new person forming, that's really more like unveiling, as layers of illusion are peeled back.
I am not who I once was. Or rather, I am becoming who I was not. A process, slow yet unable to grasp, has taken place. Is taking place.
I am letting the imago go. A term I only learned several years ago, and yet it felt like something I'd been trying to put my finger on my entire life. Imago. "An idealized mental image of another person or the self." There's a great importance in names. In being able to identify a feeling, an emotion, an idea.
"So the man gave names to all the livestock, the birds in the sky and all the wild animals." – Genesis 2:20
Ever since my brother's death, and perhaps even before, I have lifted my family, my precious, precious, family, up on a high pillar, for no one to touch. My love and loyalty ran deep, to the point that I was unable to see, or objectively experience, any faults or shortcomings. I knew they weren't perfect, but they were infallible to me. And so, I often struggle in other personal relationships. With friends. With extended family. With in laws. And with my church family. I give love and receive it bountifully in return, but I've never quite assimilated into the tribe. My heart was at home. Down a long, narrow gravel driveway. With the oak and elm trees. With the towering old barn and century-old farmhouse that's been patched and re-pieced together over the years. Inside, I am a young girl eating ramen noodles with her brother, crouched down in front of the wall furnace, soaking up the only heat in the house.
And when my father died, shortly after losing my precious baby, my world, my imago, was shaken loose from its foundation. Much like I was torn from the secure bonds of a church I loved when we discovered they'd sacrificed my brother's life, I was again uprooted from who I thought I was. I was a mother again, blessed to be fruitful and multiply. Eager for the challenge and joy of raising a third child. And suddenly, she was gone. I was the daughter of Horace Patterson. A man who I loved dearly. A man who saw himself in his daughter's creative mind, and encouraged her to flourish, dream and achieve. And suddenly, he was gone.
Yet here I am. Still going on. Still trying to figure out just what the hell happened. Who the hell am I? Again and again I've sunk my anchor into shifting sands, only to become unchained, bobbing wildly in the rolling sea.
This morning, I heard a song. One that I've listened to many times before, and yet had never really heard before. Over and over again, I heard "He is with us." Again, I was reminded of something I've always known and yet continually forget. He is the only constant. The only. One.
"We have this hope as an anchor for the soul, firm and secure. It enters the inner sanctuary behind the curtain." – Hebrews 6:19
And so, in good time, I am letting the imago go. The mental image I have in my mind of who I really am. My love and loyalty to my family are no less strong, but that does not define who I am. Who I am in Him. My faith is sealed. My hope is real. Come what may. I am not afraid.
He is With Us, Love & the Outcome
Remember
when your hope is lost
and faith is shaken
Remember
when you wonder if you're gonna make it
There's a hand stretched out
through your deepest doubt
We can't pretend
to see the ending
or what's coming up ahead
Don't know the story of tomorrow
But we can stay close
to the One who knows
We can trust our God
He knows what He's doing
Though it might hurt now
we won't be ruined
It might seem there's an ocean in between
But He's holding onto you and me
and He's never gonna leave, no
He is with us, He is with us, always, always
He is with us, He is with us, always
We believe
there is purpose, there is meaning
in everything
We surrender to His leading
He wants nothing more
than to have us close
Our faith is sealed
Our hope is real
Come what may
We're not afraid
We can trust our God, always, always
We can trust our God, always, always
He is with us, He is with us, always, always
He is with us, He is with us, always
Our God is with us.