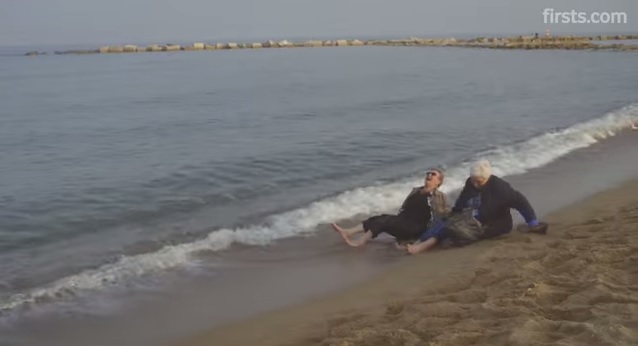 Scrolling through my Facebook feed this morning, I came across a video several friends had shared. They used words like "awesome, cute and joyful" to describe it, with no warning that it would make me cry fat, rolling-down-cheek tears. But how could they have known? Rarely do I know when something will stick me between the ribs, grasp my heart and force me to pay attention to some God-ordained message. This morning, sitting in my rectangular living room at the edge of my rectangular state, I was opened up wide, my tightly-secured gates blown from the hinges. And out they ran. My white-eyed wild emotions, penned up for too long.
I've been very open in the past about my struggles with chronic anxiety. Crippling fear. The worst-first thinking that calls the shots in my mind. And I've taken steps to get better. I've cut out caffeine, I've taken natural supplements, I've talked to a therapist, I've found comfort in God's Word. And I've gotten better. Overall, better. But there are still times when I get wrapped around the axle. One stress leads to another until I'm unwittingly tangled in the snares of my own mind.
So how does this make me feel? Frustrated. Ashamed. Disappointed that I've once again fallen to fear's siren call. The "what ifs" sound more logical than logic, and I forget to love this life I've been given. I recoil, I tense up, and I lash out. I fear flying, illness, injury, tragedy, anything, everything, and most of all, death. Of those I love, and of myself.
While putting my older daughter to bed several nights ago, I grew increasingly frustrated with her. We've established a routine after book and story time where I cuddle her for six minutes before going downstairs. (She wanted seven, I wanted five, so we compromised.) On this particular night, my daughter was fixated on how much time she had left. "Mom, how many minutes is it now?" I would respond. First with six, then five, then four, and as I counted down, she would wail and flail and you know what? She never did end up cuddling with me.
She was so worried about how much time she had left that she didn't even enjoy the time she was given. 
How I could relate to her struggles. And how ashamed I felt that I so often do the same thing.
Oh, how I wish to be Ria. Watch this video, and you'll see what I mean.