Oh. My. God. OHMYGODOHMYGODOHMYGOD!
My hands were shaking and my heart bulging from every artery when I saw what was on the screen. A picture of me. Well, half of me. From the waist down. Pants around my ankles. Sitting on the toilet. On Instagram.
Did it post? Did it post? I didn't know. My phone was frozen. I clicked, nothing would work. I was unable to delete, rewind, go back. My life was ruined. Ruined.
"I take your picture Mommy! Yaaaaay! I did it! Yaaaay! You like it?" My round-faced toddler hovered at my feet, right near where my pants were not yet pulled up. "I take your picture Mommy! I did it! See?"
I had to move to Mexico. I have to delete the Internet. All of it. This would spread. I could take if off my account, but there would be screenshots. I could never show my face again. My life was over. I had to get in the car and start driving. I had to change my name. I'd never been more embarrassed in my whole life. Not even when that boy in middle school said he wouldn't kiss me during a game of truth or dare because I had a huge zit on my face. Nope. Not even then. It was all over. I could never recover from this.
Left with no choice, I powered down my phone. I pulled up my sweats, and walked in a daze to my laptop. I'm sure the damage was already done. I'm sure people wouldn't be kind enough to not pass it along. It would go viral faster than anything I've ever posted before. This. This is the one thing I would be known for. Not a sensational blog post. Not a well-crafted story. Not a breathtaking photo of a sunset on my farm.
This. A fuzzy, angled picture taken by my 22 month old, who wandered into the bathroom where I was just trying to PEE ALONE, picked up my iPhone and hit the first button she saw. This.
I opened up my laptop and logged in, ready to see the devastation. I wanted to cry, but I was too numb. This wasn't funny. Frantically, I pulled up my Instagram account, closed my eyes, took a deep breath, and braced for impact.
Open. Refresh. Refresh. Refresh. I kept clicking the reload button on my Chrome browser. I stared in disbelief at what I saw. Nothing. It didn't post. IT DIDN'T POST!!!!!! Hallelujah, Hallelujah, Hallelujaaaaaaaaah!
Well, looks like I won't be moving to Mexico after all.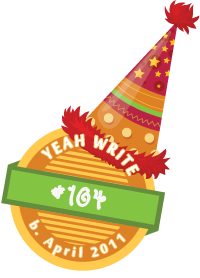 Want to read some other funny, inspiring, dramatic, or otherwise emotion-inducing posts from other great bloggers? Check out Yeah Write here.