Virtual #FarmFoodTour Takes Me on Adventure with Wonder Woman
Being a working mother=hard.

(Heck, being a mother, period, means you're working. And it's all hard.)

Being a working mother with kids at home=hard. 
Being a working mother with kids and traveling while working and taking care of children while navigating being a business owner during a pandemic=superhero level hard. 
Meet Laura Haffner (aka Wonder Woman). She and her husband Ryan own High Plains Harvesting, based in Park, Kansas. I was fortunate enough to meet her through the Virtual Farm Food Tour, sponsored by Kansas Soybean Commission, Kansas Farm Bureau, and Kansas Pork Association. After participating in the Farm Food Tour several years ago, I've been honored to continue partnering with these organizations to help tell the stories of our Kansas farmers.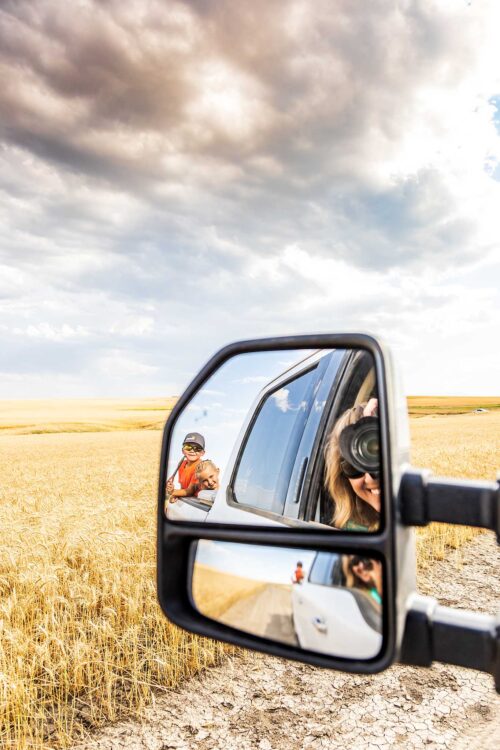 Laura and I sat down for a Zoom chat, accompanied by our respective 5-year-olds. She has a girl, I have a boy. And their interjections and interruptions were both entertaining and reflective of what it's like to perpetually blend your personal and professional life.
My son's first question for Laura wasn't "are tractors fun to drive," or anything ag-related. It was, "Can I see your five-year-old?" My little guy was being homeschooled at the time and was craving social interaction, if only on screen. He did have several other farm-related questions, though, and Laura was not only patient but thorough in her responses.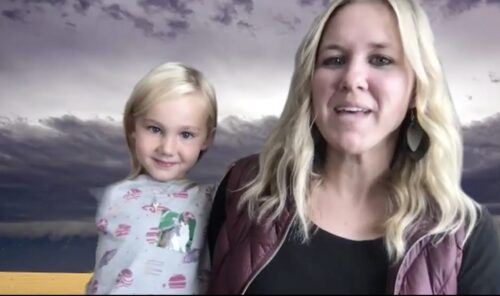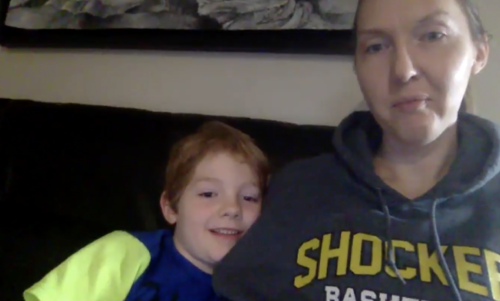 So who are the Haffners? They do what's called custom harvesting. I'm from a farm town, so I'm familiar with the term, though you may not be. These custom harvesters travel from "Texas to the Canadian border to harvest wheat, canola and peas. They return to Kansas at the end of summer to harvest corn, soybeans and grain sorghum."
They travel with a crew of about 12, and the Haffner's two young children tag along. It's a caravan of trucks, RVs and ag equipment–the logistics of which nearly blow my mind.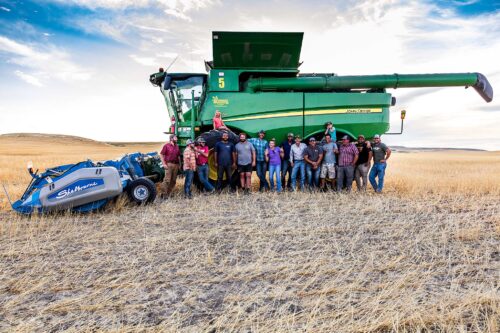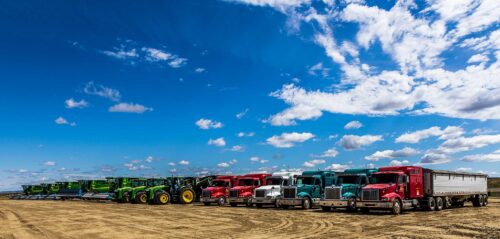 Laura also writes All Aboard Wheat Harvest, a custom-harvesting blog series from High Plains Journal, and teaches Intro to Agronomy at Fort Hays State University (as if there's not enough on her plate). Oh, and she's also a gifted photographer (she took all of these photos). 
Laura and Ryan bought their business from a family friend when they retired in 2012. "I still remember that phone call. It's been an adventure, and our life has never been the same. It was humbling. Some customers came with the business, but since we had to downsize to purchase the company, we had to get rid of a combine. We had one customer who wanted to expand, and we couldn't meet their needs. That was tough. But we started calling coops, farmers, everyone we could to drum up more business."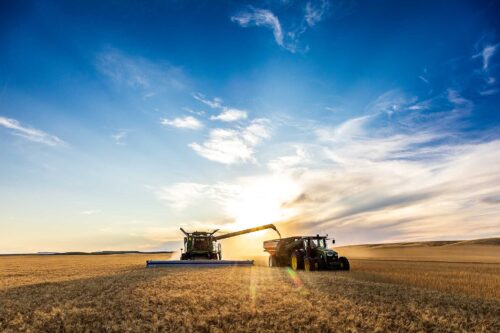 Farmers and harvesters are just like any other business owners. They have to sell what they have, whether it's a product or a service. But that's not always the hardest part. 
"It can be really hard to find good help. Only two percent of the American population is involved in production agriculture. It's just not a skillset a lot of people have. And it's long hours, and strange hours. We're gone for several weeks at a time."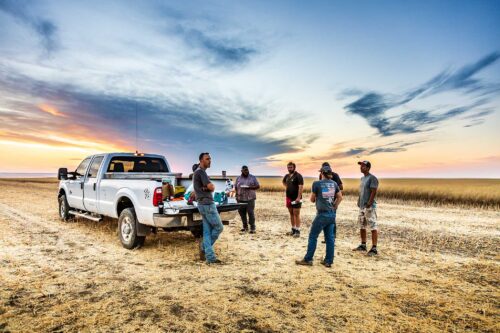 Fortunately, the Haffners, like many in the agriculture industry, are able to utilize the service of immigrants who travel to the U.S. specifically to help with harvest. "A lot of these guys come back to us year after year. We're glad to have experienced workers."
In the spring is when things start to fire up for High Plains Harvesting. 
"We live in our camper, so I have to arrange for house sitting and having the mail held while we're gone. We do a lot of training, the guys get their commercial driver licenses if they don't already have it, and then we hit the road and we just have to trust that everyone will do fine."
Trust. That's a necessity in this line of work, and the Haffner's faith helps pull them through.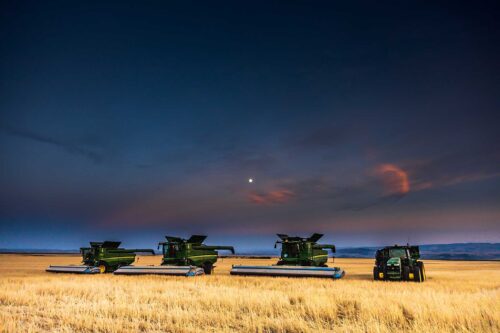 "There's a lot of risk involved in this work. Farmers can purchase insurance to cover their crops if they fail, but that's not available for us. We pay everything up front, and just hope to recoup our costs. It seems so crazy sometimes I'm not sure why anyone would want to do this."
Is custom harvesting challenging? Absolutely. But fortunately for the rest of us who want to eat and put food on the table for our children, people like the Haffners play their important role in the great agriculture industry to make it happen.
Speaking of putting food on the table, Laura does that too. Yes, she feeds the whole harvest crew, every day.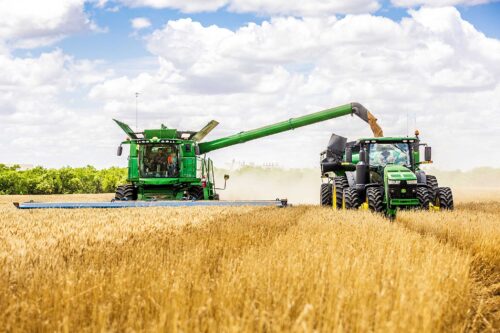 "I had to go to the grocery store every day to keep up with supplies. And without a full-size refrigerator, it's really tricky. The guys were really appreciative this year though. 2020 was a different year. I did feel appreciated by my crew."
And Laura appreciates many things about her hectic life on the road. 
"I enjoy seeing new places and meeting new people," Laura said. "I like to see harvest through my children's eyes. They think it is a grand vacation because we make it that way for them. Whether it is trips to the field or finding the interesting things that make a harvest stop unique, there is no shortage of things to do. As a result of our opportunity to extensively travel the Great Plains, I can tell the children are already expanding their worldview, love for travel, learning and adventure."
So next time you enjoy a slice of bread, or twist open a can of corn, or fill your tank with an ethanol blend…remember the very real people behind those products. People like the Haffners who hit the road every spring to help harvest fields from the far north to the far south–all while hauling their kids along and handling the ups and downs of running a business along the way.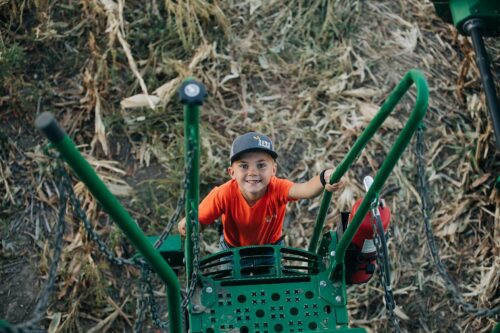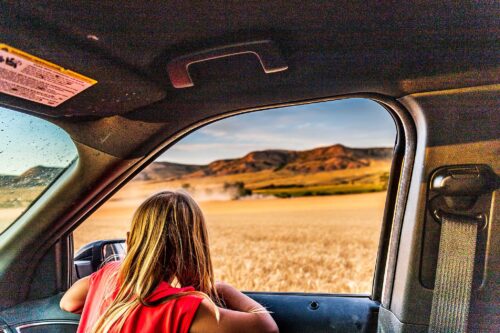 Want to learn more about Laura and her family? Check her out here!